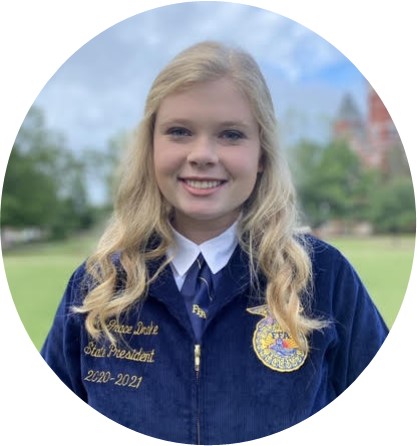 Supervised Agricultural Experience:
I keep busy participating in a Placement SAE based around Equine. Since the age of three, I have competed in various events including Showmanship, Halter, Western Pleasure, Horsemanship, Barrel Racing, Team and Breakaway Roping, Goat Tying, and Horse Evaluation. While participating on my family's farm and exhibiting horses, I have observed and taken part in routine hoof maintenance, ultra-sounding and predicting mares' gestation periods, rationing different feeds based upon each horse's nutritional needs, administering vaccines, routine parasite control, and cleaning and sanitizing equipment, including but not limited to food and water buckets. Additionally, I have been able to observe and assist specialists in evaluating horses for lameness and other health concerns.
Career Development/Leadership/Talent Event(s):
I have competed in the Horse Evaluation Career Development Event four years, placing consistently top four in the state each year. I spent one year competing on the Livestock CDE Team and was able to win state and compete nationally. Additionally, I had the opportunity to compete in the Prepared Public Speaking Contest.
Major FFA Accomplishments:
My major FFA accomplishments include being a member of the 2016 State-Winning Livestock Evaluation team, serving two years as a North District Officer, and being elected State President.
Favorite Book:
My favorite book is Gone with The Wind, written by Margaret Mitchell, but I only decided to read it after my fifth-grade best friend convinced me to watch the movie and I fell in love.
Favorite Movie:
My favorite movie is Gone with the Wind. It is a historical southern timepiece with a theme of survival, which is portrayed as the main character, Scarlett O'Hara, does whatever it takes to stay alive and live the life she desires during the years of the Civil War.
Favorite Meal:
My favorite meal consists of a ribeye steak sandwich on a sub roll, homemade macaroni and cheese, with sweet tea and warm blueberry cobbler and homemade vanilla ice cream for dessert.
Favorite Quote:
"After all, tomorrow is another day." -Scarlett O'Hara
Favorite Song:
I constantly find myself having a new favorite song, but I am always down for some Taylor Swift!
Favorite thing about FFA:
My favorite thing about FFA is that when you zip up the blue corduroy, you're able to not only make connections all over, but also, to find similarities and build relationships with those from all walks of life.
Favorite FFA Memory:
During eighth grade I was put on the livestock judging team to fill a spot. Despite our expectations after a long day of competing, we won the state contest and my team and I were over the moon excited. Those moments after learning we won with all the adrenaline pumping through my body has proved to be one of my favorite FFA memories.
College Plans:
I am a full-time student at Auburn University pursuing a degree in Animal Sciences with both an Equine and Pre-Vet concentration, while also being enrolled in Auburn Honors College. Following the completion of my undergraduate degree, I plan to attend Auburn University's College of Veterinary Medicine.