Making History Across Alabama
Established 1929
Past FFA State Advisors
| | |
| --- | --- |
| 1930-1946 | R.E. Cammack |
| 1946-1957 | J.C. Cannon |
| 1957-1970 | T.L. Faulkner |
| 1970-1972 | B.P. Dilworth |
| 1972-1975 | H.W. Green |
| 1975-1982 | J.C. Hollis |
| 1982-2000 | C.W. Reed |
| 2000-2008 | Troy D. Newton |
| 2008-2010 | Mickey Humphries |
| 2010-2012 | Collie Wells |
| 2012-2019 | Jacob Davis |
| 2019-2021 | Andy Chamness |
| 2021- Present | Collin Adcock |
Past FFA Assistant State Advisors
| | |
| --- | --- |
| 1934-1936 | P.C. Brook |
| 1936-1938 | H.F. Gibson |
| 1938-1943 | A.L. Morrison |
| 1943-1944 | C.L. Scarbrough |
| 1944-1946 | L.L. Sellers |
Past FFA Executive Secretaries
2023-PRESENTTBD
| | |
| --- | --- |
| 1946-1949 | C.L. Scarbrough |
| 1949-1957 | T.L. Faulkner |
| 1957-1959 | J.L. Dailey and E.L. McGraw |
| 1959-1960 | J.L. Dailey and Byron F. Rawls |
| 1960-1964 | Byron F. Rawls |
| 1964-1967 | H.N. Lewis |
| 1967-1982 | C.W. Reed |
| 1982-2000 | Troy D. Newton |
| 2000-2004 | Ben Scheierman |
| 2004-2011 | Jacob Davis |
| 2011-2017 | Philip Paramore |
| 2017-2020 | Andy Chamness |
| 2020-2023 | Jerad Dyess |
| 2023-Present | TBD |
Past National Officers from Alabama
(Jerry Batts and Jennifer Edwards served as National FFA Secretary; the other officers were Southern Region Vice President.)

1.
1938-1939
Bradley Twitty, Cherokee
2.
1968-1969
Jerry Batts, Clements
3.
1971-1972
Sammy Peebles, W.S. Neal
4.
1975-1976
Elton Bouldin, Crossville
5.
1985-1986
Robert Weaver, Falkville
6.
1986-1987
Jayme Feary, Falkville
7.
1989-1990
Brad Lewis, Elkmont
8.
1991-1992
Shane Black, Clements
9.
1995-1996
Clara-Leigh Horn, Ashville
10.
1996-1997
Charlie Jones, Billingsley
11.
1997-1998
Amber Miller, Louisville
12.
2000-2001
Jennifer Edwards, Gaston
13.
2006-2007
Jennifer Himburg, Ariton
14.
2012-2013
Wiley Bailey, Sand Rock
15.
2013-2014
Jackson Harris, Eufaula
16.
2018-2019
Jordan Stowe, Enterprise
Past Alabama FFA State Officers | 2020-2030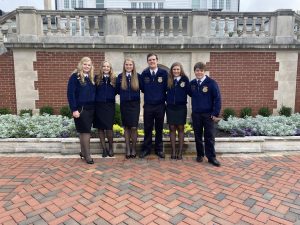 | | |
| --- | --- |
| 2020-2021 | |
| President | Millie Grace Drake, J.B. Pennington |
| Vice President | Maggie Bush, G.W. Long |
| Secretary | Brooke Perry, Pell City |
| Treasurer | Lee Enfinger, Dale County |
| Reporter | Corley Williams, Arab |
| Sentinel | Case Edwards, Wetumpka |
| | |
| 2021-2022 | |
| President | Leeanna Burkhalter – Fayette Co. |
| Vice President | Kaleigh McGrew – Southern Choctaw |
| Secretary | Wesley Gaddy – Alexandria |
| Treasurer | Katlyn Burroughs – Elkmont |
| Reporter | Olivia Powers – Thorsby |
| Sentinel | Brianna Payne – Lincoln |
| | |
| 2022-2023 | |
| President | Kellen Lincoln – Baldwin Co |
| Vice President | Sam Miller – Eufaula |
| Secretary | J.B. Rhodes – W.S. Neal |
| Treasurer | Raegan Rogers- Spring Garden |
| Reporter | Hayden Stell – G.W. Long |
| Sentinel | Jackson Hornady – Billingsley |
| | |
| 2023-2024 | |
| President | Kayden Ray – Benjamin Russell |
| Vice President | Emily Grace Rezek – Opelika |
| Secretary | Jayden McMillian – McKenzie |
| Treasurer | Elizabeth MacAloney – Dale County |
| Reporter | Andrea Roberts – Centre |
| Sentinel | Christopher Thompson Jr. – Goshen |
| | |
| | |
| 2024-2025 | |
| President | |
| Vice President | |
| Secretary | |
| Treasurer | |
| Reporter | |
| Sentinel | |
| | |
| | |
| 2025-2026 | |
| President | |
| Vice President | |
| Secretary | |
| Treasurer | |
| Reporter | |
| Sentinel | |
| | |
| | |
| 2026-2027 | |
| President | |
| Vice President | |
| Secretary | |
| Treasurer | |
| Reporter | |
| Sentinel | |
| | |
| | |
| 2027-2028 | |
| President | |
| Vice President | |
| Secretary | |
| Treasurer | |
| Reporter | |
| Sentinel | |
| | |
| | |
| --- | --- |
| | |
| 2028-2029 | |
| President | |
| Vice President | |
| Secretary | |
| Treasurer | |
| Reporter | |
| Sentinel | |

| | |
| --- | --- |
| 2029-2030 | |
| President | …………………………………………………………………………………………………………….. |
| Vice President | |
| Secretary | |
| Treasurer | |
| Reporter | |
| Sentinel | |
Past Alabama FFA State Officers | 2010-2019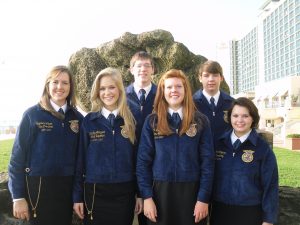 | | |
| --- | --- |
| 2010-2011 | |
| President | Elizabeth Wilson, Jacksonville |
| Vice President | Jackson Harris, Eufaula |
| Secretary | Carley McWilliams, McAdory |
| Treasurer | Allison Meeks, Geraldine |
| Reporter | Becky Almquist, Enterprise |
| Sentinel | Will Wright, Rogersville |
| | |
| 2011-2012 | |
| President | Kathryn Ray, Montevallo |
| Vice President | Lauren Gray, Red Bay |
| Secretary | Lydia Urick, Falkville |
| Treasurer | Justin Miller, Sand Rock |
| Reporter | Megan Saunders, Geneva |
| Sentinel | Brandon Russell, McAdory |
| | |
| 2012-2013 | |
| President | Josh Williams, Douglas |
| Vice President | Dawn Turner, Enterprise |
| Secretary | Lucinda Daughtry, Smiths Station |
| Treasurer | Abby Himburg, Ariton |
| Reporter | Luke Knight, Wadley |
| Sentinel | Nikki Giba, Cherokee |
| | |
| 2013-2014 | |
| President | William Norris, Wetumpka |
| Vice President | Bailey Sims, Marbury |
| Secretary | Hayden Whittle, Geneva |
| Treasurer | Shelby Windham, Ariton |
| Reporter | Kelsey Faulkner, Ardmore |
| Sentinel | Alyssa Hutcheson, Red Bay |
| | |
| | |
| 2014-2015 | |
| President | Will Graves, Cleveland |
| Vice President | Levi Colquitt, Marbury |
| Secretary | Lacey Newman, Reeltown |
| Treasurer | Cody Maddox, Geraldine |
| Reporter | Clay Tew, G. W. Long |
| Sentinel | Colten Farley, White Plains |
| | |
| | |
| 2015-2016 | |
| President | Wade Gossett, Hokes Bluff |
| Vice President | Jordan Stowe, Enterprise |
| Secretary | Cassidy Catrett, Brantley |
| Treasurer | Anna Pollard, Jacksonville |
| Reporter | Ivy Harbin, West Limestone |
| Sentinel | Whitney Hamby, Ohatchee |
| | |
| | |
| 2016-2017 | |
| President | Sierra Goodwin, Danville |
| Vice President | Ethan Mobley, Red Bay |
| Secretary | Ben Castleberry, Pell City |
| Treasurer | Becky Hawkins, Eufaula |
| Reporter | Hannah Black, Arab |
| Sentinel | Torran Smith, Reeltown |
| | |
| | |
| 2017-2018 | |
| President | Cameron Catrett, Brantley |
| Vice President | John Crawford, A.P. Brewer |
| Secretary | Gracen Sims, Marbury |
| Treasurer | Jasey Black, Clements |
| Reporter | Will Jordan, Clay Central |
| Sentinel | Bryce Hendricks, Enterprise |
| | |
                 

…………………………………………….

2018-2019
President
Summer Parker, Enterprise
Vice President
Maggie Edwards, Woodland
Secretary
Matthew Wilson, Horseshoe Bend
Treasurer
Ethan Phillips, Dadeville
Reporter
Preston Hughes, East Lawrence
Sentinel
Kalyn Rouse, Skyline
| | |
| --- | --- |
| …………………………………………… | |
| 2019-2020 | |
| President | Will Aycock, Albertville |
| Vice President | Alyssa Glover, Rehobeth |
| Secretary | Terrance Crayton, Wetumpka |
| Treasurer | Megan Woodall, Skyline |
| Reporter | Ka'Shiya McKinney, Reeltown |
| Sentinel | Garrett Springs, Daphne |
Past Alabama FFA State Officers | 2000-2009
| | |
| --- | --- |
| 2000-2001 | |
| President | Lybbi Stiefel, White Plains |
| Vice President | Heath Moorehead, G.W. Long |
| Secretary | Thomas Hall, Isabella |
| Treasurer | Brad Woodard, Corner |
| Reporter | Michael Holcomb, Fairhope |
| Sentinel | Rocky Oliver, Sand Rock |
| | |
| 2001-2002 | |
| President | Grace Smith, Billingsley |
| Vice President | Devin Dotson, Red Bay |
| Secretary | Alyson Johnson, Geraldine |
| Treasurer | Dennis Busby, Kinston |
| Reporter | Ashley Green, New Brockton |
| Sentinel | Jarrod Smitherman, Isabella |
| | |
| 2002-2003 | |
| President | Chris Randolph, Jacksonville |
| Vice President | Toni Deason, Woodland |
| Secretary | Jennifer Himburg, Ariton |
| Treasurer | Crystal Bradley, Gaston |
| Reporter | Daniel Ganus, Leroy |
| Sentinel | Cody Eiland, Eufaula |
| | |
| 2003-2004 | |
| President | Brittany Beasley, Gaston |
| Vice President | Whitney Griffin, Lineville |
| Secretary | Hannah Beam, Geraldine |
| Treasurer | Joanna Stewart, Woodland |
| Reporter | Ashleigh Butts, Leroy |
| Sentinel | Alex Popwell, Marbury |
| | |
| 2004-2005 | |
| President | Matt Barton, Gaston |
| Vice President | Katie Gann, Cherokee |
| Secretary | Marc Manning, Billingsley |
| Treasurer | Alicia Butts, Leroy |
| Reporter | Bradley Camp, Geraldine |
| Sentinel | Michael Roach, Spring Garden |
| | |
| 2005-2006 | |
| President | Jordan Hamilton, Sand Rock |
| Vice President | Brooke Heade, Marbury |
| Secretary | Matt Wilson, Jacksonville |
| Treasurer | Jared Beasley, Gaston |
| Reporter | Karen Baggett, Lawrence County |
| Sentinel | Kimberly Henderson, Enterprise |
| | |
| 2006-2007 | |
| President | Salora Wright, Clements |
| Vice President | Travis McGowin, Billingsley |
| Secretary | W. Brandon Smith, Slocomb |
| Treasurer | Jerika Buttram, Geraldine |
| Reporter | Justin Posey, Montevallo |
| Sentinel | Caleb Colquitt, Marbury |
| | |
| 2007-2008 | |
| President | James Paul Bailey, Sand Rock |
| Vice President | McKenzie Crabtree, East Limestone |
| Secretary | Brendon Boyd, Marbury |
| Treasurer | Scottie Hunter, Billingsley |
| Reporter | Melody Murrell, Red Bay |
| Sentinel | Leah Blalock, Daphne |
| | |
| 2008-2009 | |
| President | Zachary Jones, Spring Garden |
| Vice President | Brandy Feltman, Oakman |
| Secretary | Michelle Vasbinder, Enterprise |
| Treasurer | Raven Buchanan, Wilcox Central |
| Sentinel | Anna Leigh Peek, West Limestone |
| | |
| 2009-2010 | |
| President | Hunter Garnett, Danville |
| Vice President | Mary Helen Jones, Wetumpka |
| Secretary | Wiley Bailey, Sand Rock |
| Treasurer | Kacey Colquitt, Marbury |
| Reporter | Patrick Howard, McAdory |
| Sentinel | Joey Stabler, Daphne |
Past Alabama FFA State Officers | 1990-1999
| | |
| --- | --- |
| 1990-91 | |
| President | Marie Rush, Lineville |
| Vice President | Richard D. Scott, R.C. Hatch |
| Secretary | Stephen Kiser, Spring Garden |
| Treasurer | Michael A. Reeser, Calera |
| Reporter | Joe Baxter, Fruitdale |
| Sentinel | Rebecca Birdsong, Hartford |
| | |
| 1991-92 | |
| President | Brandon Abbott, Arab |
| Vice President | Jerie Browning, Central Coosa |
| Secretary | John Clement, Tanner |
| Treasurer | Tony Simmons, Rehobeth |
| Reporter | Nina Weston, Paramount |
| Sentinel | Chris Null, McAdory |
| | |
| 1992-93 | |
| President | Casey Mattox, Collinsville |
| Vice President | Clara-Leigh Horn, Ashville |
| Secretary | Kary Luken, West End |
| Treasurer | Tommy Hutchins, Meek |
| Reporter | Will Glover, G.W. Long |
| Sentinel | Tim Wood, W.S. Neal |
| | |
| 1993-94 | |
| President | Jamie Brothers, Douglas |
| Vice President | April Wise, Geraldine |
| Secretary | Holly Stinson, Elba |
| Treasurer | Charlie Jones, Billingsley |
| Reporter | Norman Atkins, Jr., Paramount |
| Sentinel | Elizabeth Ellis, W.S. Neal |
| | |
| 1994-95 | |
| President | Jason Stone, Kate Duncan Smith, D.A.R. |
| Vice President | Heath Hughes, G.W. Long |
| Secretary | Carla Moore, Billingsley |
| Treasurer | Jeremy Douglas, W.S. Neal |
| Reporter | Kenny Smith, McAdory |
| Sentinel | Jeremy Simpson, Bibb County |
| | |
| 1995-96 | |
| President | Amber Miller, Louisville |
| Vice President | Dennis Fuqua, W.S. Neal |
| Secretary | Michael Manning, Billingsley |
| Treasurer | Rachel Hawes, Woodland |
| Reporter | T.J. Odom, Citronelle |
| Sentinel | Chad Chaney, Sylvania |
| | |
| 1996-97 | |
| President | Whitney Wood, Wetumpka |
| Vice President | Nick Mitchell, Douglas |
| Secretary | Shay Jones, Billingsley |
| Treasurer | Beau Ashley, Gaston |
| Reporter | Josh Henderson, Samson |
| Sentinel | Tracey Alexander, J.U. Blacksher |
| | |
| 1997-98 | |
| President | Bryce Ulrich, Jacksonville |
| Vice President | Christine Simmer, Montevallo |
| Secretary | Jennifer Edwards, Gaston |
| Treasurer | Laina McWhorter, West End |
| Reporter | Leigh Kelley, Elba |
| Sentinel | Dexter Curry, Fairhope |
| | |
| 1998-99 | |
| President | Nathan Dewberry, Lineville |
| Vice President | Dustin John Kittle, Geraldine |
| Secretary | Vanessa Kretzschmar, Cleveland |
| Treasurer | Lonny Jackson, Eufaula |
| Reporter | Jeanie Edwards, Wetumpka |
| Sentinel | Matt Parnell, Leroy |
| | |
| 1999-2000 | |
| President | Josh Dozier, Marbury |
| Vice President | Josh P. Johnson, Jacksonville |
| Secretary | Lisa Jividen, Geraldine |
| Treasurer | Tremayne Wilson, Billingsley |
| Reporter | Alisha Turnbull, Lexington |
| Sentinel | Andrea Hill, W.S. Neal |
Past Alabama FFA State Officers | 1980-1989
| | |
| --- | --- |
| 1980-81 | |
| President | William Phillip Holland, Holtville |
| Vice President | Morris Baker, Eutaw |
| Secretary | Warner Smith, Collinsville |
| Treasurer | Michael Chapman, Woodland |
| Reporter | Donald L. Dekle, Cottonwood |
| Sentinel | Brian Glenn, West Morgan |
| | |
| 1981-82 | |
| President | Barry Watts, Eclectic |
| Vice President | Walt Hall, Highland Home |
| Secretary | Jeff Parmer, Russellville |
| Treasurer | Tim White, Ider |
| Reporter | Don Green, Thorsby |
| Sentinel | Terrell Herzig, Oakman |
| | |
| 1982-83 | |
| President | Robert Weaver, Falkville |
| Vice President | Patrick Tucher, Kate Duncan Smith D.A.R. |
| Secretary | David Noles, Tallassee |
| Treasurer | John Meacham, Elba |
| Reporter | Tracy James, Montevallo |
| Sentinel | Paul Pinyan, Holly Pond |
| | |
| 1983-84 | |
| President | Jayme Feary, Falkville |
| Vice President | Jess L. Drummond, Walker |
| Secretary | M. Wayne Wootten, Sylvania |
| Treasurer | C. Tom Whitehead, Brantley |
| Reporter | Steve D. Martin, Auburn |
| Sentinel | Terry Joe Holder, West Blocton |
| | |
| 1984-85 | |
| President | Lamar White, Auburn |
| Vice President | Norman Mason, Rogersville |
| Secretary | Jack Brewer, III, Citronelle |
| Treasurer | Waller Martin, Luverne |
| Reporter | Denise Smith, Arab |
| Sentinel | Maury Minton, Walker |
| | |
| 1985-86 | |
| President | Jody Brewer, Citronelle |
| Vice President | David Parmer, Russellville |
| Secretary | Thomas Spencer, Auburn |
| Treasurer | Greg Smith, Pleasant Home |
| Reporter | Mike Dunkling, West Blocton |
| Sentinel | Phillip Hudson, West Point |
| | |
| 1986-87 | |
| President | Brad Lewis, Elkmont |
| Vice President | Bronwyn Bishop, Woodland |
| Secretary | Ricky Dorman, Luverne |
| Treasurer | Merle G. Flowers, Section |
| Reporter | Michael Kaiser, Foley |
| Sentinel | Denny Johnson, Livingston |
| | |
| 1987-88 | |
| President | Curt Lee, Jasper |
| Vice President | Keith Phillips, G.W. Long |
| Secretary | Brian Petty, Falkville |
| Treasurer | Alan Smith, Attalla |
| Reporter | Brad Weaver, Citronelle |
| Sentinel | Tom Whatley, Beauregard |
| | |
| 1988-89 | |
| President | Kim Sanders, Marbury |
| Vice President | Shane Black, Clements |
| Secretary | Mindy Stringer, Castleberry |
| Treasurer | Kelvin Whitaker, Kate Duncan Smith D.A.R. |
| Reporter | Chris Cone, Cleveland |
| Sentinel | Beckie DeBruler, Daleville |
| | |
| 1989-90 | |
| President | Kevin Webb, Rehobeth |
| Vice President | John Gladden, Attalla |
| Secretary | Delicia Carey, Paramount |
| Treasurer | Christy Dison, Elkmont |
| Reporter | Sally Spratlin, Woodland |
| Sentinel | Scott Schneider, Citronelle |
Past Alabama FFA State Officers | 1970-1979
| | |
| --- | --- |
| 1970-71 | |
| President | Bill Cofield, Woodland |
| Vice President | Herbert Brown, Evergreen |
| Secretary | Kenny Marrow, Red Bay |
| Treasurer | Jimmy Hayes, Goodwater |
| Reporter | Frankel Hunnicutt, Kennedy |
| Sentinel | Joel Jones, Elba |
| | |
| 1971-72 | |
| President | Carl Shewbart, Speake |
| Vice President | Johnnie Wood, Wetumpka |
| Secretary | John Patterson, J.B. Pennington |
| Treasurer | Joel Ellis, Enterprise |
| Reporter | Randall Smith, Crossville |
| Sentinel | Earnest Gabel, Fairhope |
| | |
| 1972-73 | |
| President | Steve Fowler, Wicksburg |
| Vice President | Roger Page, Red Bay |
| Secretary | Terry Johnson, Geraldine |
| Treasurer | Tim DeLoach, Weogufka |
| Reporter | Ronald Turner, Citronelle |
| Sentinel | Clifton Homan, Gordo |
| | |
| 1973-74 | |
| President | Elton Bouldin, Crossville |
| Vice President | Albert F. Blankenship, Stanhope Elmore |
| Secretary | Pat Jones, Gurley |
| Treasurer | Spencer L. Means, Carver (1st African American State Officer) |
| Reporter | Kenny Brown, Evergreen |
| Sentinel | Kenneth M. Spivey, Enterprise |
| | |
| 1974-75 | |
| President | Paul Stanfield, Isabella |
| 1st Vice President | Eddie Blizzard, Scottsboro |
| 2nd Vice President | Danny Williamson, W.S. Neal |
| Secretary | John Summerford, Falkville |
| Treasurer | Hamp Tew, Florala |
| Reporter | Ric Payson, Stanhope Elmore |
| Sentinel | George Cargile, Millport |
| | |
| 1975-76 | |
| President | Bill Gibson, Curry |
| 1st Vice President | Gary Mitchell, Weogufka |
| 2nd Vice President | Dennis Adams, W.S. Neal |
| Secretary | Franklin Dawson, Florala |
| Treasurer | Eric Summerford, Falkville |
| Reporter | Ronnie Day, Pisgah |
| Sentinel | Tom Cardwell, Notasulga |
| | |
| 1976-77 | |
| President | Mike Bradford, Scottsboro "A" |
| 1st Vice President | Marvis Futral, Eclectic |
| 2nd Vice President | Pamela Tate, Mary G. Montgomery (First Female State Officer) |
| Secretary | David Hicks, Russellville |
| Treasurer | Jimmy Veazey, Isabella |
| Reporter | Tolton Anderson, Cottonwood |
| Sentinel | Chris Green, J.B. Pennington |
| | |
| 1977-78 | |
| President | David O'Shields, Anniston |
| Vice President | David Granger, Eclectic |
| Secretary | Steve Carter, Troy |
| Treasurer | John Lawrence Baker, Eutaw |
| Reporter | Tony Nafe, Rogersville |
| Sentinel | Ed Day, Maplesville |
| | |
| 1978-79 | |
| President | Stephen A. Cobb, Jacksonville |
| Vice President | Jim Baker, Eutaw |
| Secretary | Patti Dunn, Smiths Station |
| Treasurer | Demetrius Daniel, Wedowee |
| Reporter | Coleman A. White, Curry |
| Sentinel | Greg Chandler, Rogersville |
| | |
| --- | --- |
| 1979-80 | |
| President | David McCall, Opp |
| Vice President | Kay Bozeman, Berry |
| Secretary | Philip Paramore, Notasulga |
| Treasurer | Harold Hamilton, Rogersville |
| Reporter | Brian Townsend, Ider |
| Sentinel | David Warr, W.S. Neal |
Past Alabama FFA State Officers | 1960-1969
| | |
| --- | --- |
| 1960-61 | |
| President | Larry Justice, Geneva |
| Vice President | Bob Vick, Camden |
| Secretary | Noel Chambless, Blountsville |
| Treasurer | Jimmy Collins, LaFayette |
| Reporter | David Page, Vina |
| | |
| 1961-62 | |
| President | Jimmy Barnes, Sulligent |
| Vice President | Jimmy Golson, Autaugaville |
| Secretary | Alvie Smith, Sparkman |
| Treasurer | Billy Powell, Leroy |
| Reporter | Glenward Spivey, Blue Springs |
| | |
| 1962-63 | |
| President | Billy Henderson, Straughn |
| Vice President | Jerry Brown, Butler |
| Secretary | Dickey Winsette, Hazel Green |
| Treasurer | Paul Dick, Ashland |
| Reporter | Bryan Bain, Carrollton |
| | |
| 1963-64 | |
| President | John Varner, Wetumpka |
| Vice President | Mickey Humphries, Reeltown |
| Secretary | Jimmy Maxwell, Union Spring |
| Treasurer | Elwood Overstreet, Jackson |
| Reporter | Barry Siniard, West Limestone |
| | |
| 1964-65 | |
| President | Jimmy Cravey, Florala |
| Vice President | Ronnie Mathis, Sparkman |
| Secretary | Buddy Brawley, Gurley |
| Treasurer | Frankie Cobb, Odenville |
| Reporter | Buddy Scott, Maplesville |
| | |
| 1965-66 | |
| President | Harrell Day, Five Points |
| Vice President | Don Driver, Gordo |
| Secretary | Huey Givens, Newville |
| Treasurer | Bill Roberson, Town Creek |
| Reporter | Johnny Ward, Evergreen |
| Sentinel | Jimmy Pate, Sand Rock |
| | |
| 1966-67 | |
| President | Jerry Batts, Clements |
| Vice President | Bruce Teal, Douglas |
| Secretary | Hugh Finlay, Goshen |
| Treasurer | Boyd Little, Fairhope |
| Reporter | Boyd Koon, Gordo |
| Sentinel | Tommy Wilson, Holtville |
| | |
| 1967-68 | |
| President | Bruce Brand, Wetumpka |
| Vice President | Jerry Holcomb, Section |
| Secretary | Miles Covin, Evergreen |
| Treasurer | Laymon Phillips, Clio |
| Reporter | Henry Kennemur, Phil Campbell |
| Sentinel | Jeffrey Clary, Akron |
| | |
| 1968-69 | |
| President | Barry Cofield, Woodland |
| Vice President | Joe Carmichael, Enterprise |
| Secretary | Roger Waller, Evergreen |
| Treasurer | Lynn Russell, Boaz |
| Reporter | Ben Holifield, Marion |
| Sentinel | Steve Emerson, Haleyville |
| | |
| 1969-70 | |
| President | Sammy Pebbles, W.S. Neal |
| Vice President | Tim Lee, Falkville |
| Secretary | Jamey Clary, Akron |
| Treasurer | Gary Hall, Opp |
| Reporter | Steve Holcomb, Section |
| Sentinel | Robert Fowler, Weogufka |
Past Alabama FFA State Officers | 1950-1959
| | |
| --- | --- |
| 1950-51 | |
| President | Winford Collier, Wetumpka |
| Vice President | John Sherrer, Orrville |
| Secretary | Reuben Finney, Five Points |
| Treasurer | Paul Copeland, Arab |
| Reporter | Kenneth Landers, Leighton |
| | |
| 1951-52 | |
| President | Joe Broadwater, Tanner |
| Vice President | James Allen, Kinston |
| Secretary | Jack Lasseter, Southside |
| Treasurer | Edwin Johnson, Flomaton |
| Reporter | Thomas Terry, Moundville |
| | |
| 1952-53 | |
| President | Winford Davis, Milltown |
| Vice President | Millard Latham, Palmetto |
| Secretary | Bob Molette, Orrville |
| Treasurer | Charles Wall, Hayden |
| Reporter | Roy Sims, Enterprise |
| | |
| 1953-54 | |
| President | Ralph Barrett, Corner |
| Vice President | Cameron Lyle, Eclectic |
| Secretary | Bryant Byrd, Beulah |
| Treasurer | Kenneth Copeland, Boaz |
| Reporter | Douglas Rigney, Millry |
| | |
| 1954-55 | |
| President | Garland Bond, Greensboro |
| Vice President | Roy Boyd, Ramer |
| Secretary | Jerdan Bullard, Red Bay |
| Treasurer | David Wilson, Grove Hill |
| Reporter | George Johnson, Pell City |
| | |
| 1955-56 | |
| President | Neil Bain, Carrollton |
| Vice President | Ellis Burgess, Jemison |
| Secretary | Bob Wise, Kinston |
| Treasurer | Leon Dykes, Jackson |
| Reporter | Terrell Taylor, Ider |
| | |
| 1956-57 | |
| President | Ronald Rogers, Prattville |
| Vice President | George Guess, Jr., Stevenson |
| Secretary | Johnny Jenkins, Geneva |
| Treasurer | Lawrence Lipscomb, Foley |
| Reporter | Jacky Pennington, Sulligent |
| | |
| 1957-58 | |
| President | Robert Helms, Grove Hill |
| Vice President | Haniel Croft, Andalusia |
| Secretary | Charles McCay, Locust Fork |
| Treasurer | Billy Steele, Curry |
| Reporter | Roscoe Johnston, Isabella |
| | |
| 1958-59 | |
| President | Buddy Farrington, Dadeville |
| Vice President | Charles Turner, Geneva |
| Secretary | Lavaughn Johnson, Jacksonville |
| Treasurer | Herman Majors, Orrville |
| Reporter | Scotty Carson, Aliceville |
| | |
| 1959-60 | |
| President | Delmar Wiggins, Straughn |
| Vice President | Pryor Murphree, Prattville |
| Secretary | Gary Winset, Hazel Green |
| Treasurer | Larry Williams, Jasper |
| Reporter | Rich Pearson, Leroy |
Past Alabama FFA State Officers | 1940-1949
| | |
| --- | --- |
| 1940-41 | |
| President | L.C. Fitzpatrick, Gaylesville |
| Vice President | A.F. Caley, Orrville |
| Secretary | Martin Ables, Fyffe |
| Treasurer | Leon Estes, Fayette |
| Reporter | Page Kelley, Hartford |
| | |
| 1941-42 | |
| President | Francis Nicholas, Frisco City |
| Vice President | Lloyd Burns, Hartselle |
| Secretary | David Crawford, Marion |
| Treasurer | William Edwards, Jr., Enterprise |
| Reporter | Ralph Parker, Beauregard |
| | |
| 1942-43 | |
| President | Dan Easterling, Clio |
| Vice President | Hilton Register, Slocomb |
| Secretary | James Revis Hall, Gordo |
| Treasurer | John William Eddins, Frisco City |
| Reporter | Hudson Calfee, Isabella |
| | |
| 1943-44 | |
| President | Thomas Nevin, Moundville |
| Vice President | Rex Locklar, Goshen |
| Secretary | Paul Wilson, Lexington |
| Treasurer | Elson Powell, West Point |
| Reporter | Hansell Groom, Isabella |
| | |
| 1944-45 | |
| President | Thad Salmon, Auburn |
| Vice President | Wayne Thompson, Fort Payne |
| Secretary | Louie Chapman, Midland City |
| Treasurer | Merrill Carlisle, Notasulga |
| Reporter | James Bouchillon, Reform |
| Sentinel | Clarice Beech, Chatom |
| | |
| 1945-46 | |
| President | Max McLaughlin, Blue Springs |
| Vice President | Freddie Duke, West Point |
| Secretary | Joe Hughes, Geneva |
| Treasurer | Martin Cranford, Arab |
| Reporter | Marlin Robinson, Susan Moore |
| Sentinel | Charles Stringfellow, Greenville |
| | |
| 1946-47 | |
| President | Edsel Thomaston, Kinston |
| Vice President | Carl Watson, Georgianna |
| Secretary | Milford Bonner, Reform |
| Treasurer | Kerna B. Tidwell, Susan Moore |
| Reporter | Joe Pace Palmer, Leroy |
| | |
| 1947-48 | |
| President | Dane Lowrey, Jemison |
| Vice President | Bobby White, Riverton |
| Secretary | Ralph Ethridge, McAdory |
| Treasurer | Eldred Croft, Straughn |
| Reporter | Wayne Upton, Centre |
| | |
| 1948-49 | |
| President | Nick Lindsey, Orrville |
| Vice President | Bob Salmon, Auburn |
| Secretary | S.J. Noah, Glencoe |
| Treasurer | Buddy Clark, Kinston |
| Reporter | Douglas Mitchell, Corner |
| | |
| 1949-50 | |
| President | Elton Pierce, Tanner-Williams |
| Vice President | Harvey Tollison, Pell City |
| Secretary | Jack Lasseter, Southside |
| Treasurer | Edwin Johnson, Flomaton |
| Reporter | Homer Vinson, Red Bay |
Past Alabama FFA State Officers | 1929-1939
| | |
| --- | --- |
| 1929-30 | |
| President | Earl Soloman, Uriah |
| Vice President | Page Kilmer, Rogersville |
| Secretary | Oliver Manning, Isabella |
| Treasurer | Jim Espy, Midland City |
| Reporter | Lloyd Ezell, Ozark |
| | |
| 1930-31 | |
| President | Julous Carnell, Blountsvill |
| Vice President | C.W. "Bill" Mason, Cherokee |
| Secretary | Harvey Milligan, Ramer |
| Treasurer | Phillip Thomas, Athens |
| Reporter | Marvin M. Durbin, Isabella |
| | |
| 1931-32 | |
| President | C.W. "Bill" Mason, Cherokee |
| Vice President | Byron Cowart, Evergreen |
| Secretary | Sam Price Jones, McKenzie |
| Treasurer | Earnest Thornhill, Abbeville |
| Reporter | W.F. Owens, Holtville |
| | |
| 1932-33 | |
| President | Earnest Thornhill, Holtville |
| Vice President | Keith Ferrell, Uriah |
| Secretary | Clyde Davis, Lamar County HS |
| Treasurer | Albert Ellison, Ramer |
| Reporter | Perry Clay, Glencoe |
| | |
| 1933-34 | |
| President | Austin Ezell, Spruce Pine |
| Vice President | Perry Clay, Glencoe |
| Secretary | Ed Christian, Fernbank |
| Treasurer | Willard Brown, Evergreen |
| Reporter | Clifford Manning, Maplesville |
| | |
| 1934-35 | |
| President | Ernie Lee Robinson, Randolph |
| Vice President | Ennis Young, Mount Hope |
| Secretary | J.P. Dodd, Walnut Grove |
| Treasurer | Seals Menefee, Grady |
| Reporter | Sammie Pate, Shelby |
| | |
| 1935-36 | |
| President | A.C. Allen, Jr., Holtville |
| Vice President | William Crawford, Marion |
| Secretary | Neil Martin, Wetumpka |
| Treasurer | Cecil Cobia, Cedar Bluff |
| Reporter | Joe Camp, Nokomis |
| | |
| 1936-37 | |
| President | C.W. Wells, Jemison |
| Vice President | William Crawford, Marion |
| Secretary | Roger Nance, Gurley |
| Treasurer | Pete Turnham, Milltown |
| Reporter | Ronald Sellars, Ramer |
| | |
| 1937-38 | |
| President | O'Neil Sewell, Wetumpka |
| Vice President | Marvin Smith, Cullman |
| Secretary | Bradley Twitty, Cherokee |
| Treasurer | Pete Turnham, Milltown |
| Reporter | Maxwell Lewis, Ramer |
| | |
| 1938-39 | |
| President | Dolphus Price, Falkville |
| Vice President | John B. Richardson, Cortelyou |
| Secretary | John Bill Knowles, Headland |
| Treasurer | Hulon Tew, Slocomb |
| Reporter | Archer Gilmore, Sulligent |
| | |
| 1939-40 | |
| President | John Bill Knowles, Headland |
| Vice President | Hollis Smith, Killen |
| Secretary | Roy F. Fuller, Notasulga |
| Treasurer | Albert D. Nash, Odenville |
| Reporter | L.C. Fitzpatrick, Gaylesville |
Location of Past Conventions
1934-1946
Alabama Polytechnic Institute, Auburn
1947
Phillips High School, Birmingham
1948-1968
Alabama Polytechnic Institute, Auburn

(renamed Auburn University in 1960)

1969-1976
Garrett Coliseum, Montgomery
1977-2003
Montgomery Civic Center, Montgomery
2004-2009
Auburn University, Auburn
2010-2019
Montgomery Renaissance, Montgomery
2020-2021
Virtual
2022-present
Montgomery Renaissance, Montgomery
Prepared Public Speaking CDE Winners
1936 – John W. Calhoun, Notasulga Chapter.
1937 – Roy Fuller, Notasulga Chapter
1938 – Glenn Curlee, Holtville Chapter
1939 – Claborne Brazeal, Reform Chapter
1940 – R. C. Horn, Samson Chapter.
1941 – R. L. "Red" Jones, Carrollton Chapter (National Winner)
1942 – Dan Easterling, Clio Chapter
1943 – Ralph Tanner, Corner Chapter
1944 – Jack Helms, Enterprise Chapter
1945 – Max McLaughlin, Blue Springs Chapter
1946 – Bill Hobbs, Jacksonville Chapter
1947 – Earl Robbins, Evergreen Chapter
1948 – S. J. Noah, Glencoe Chapter
1949 – Dow B. Erwin, Glencoe Chapter
1950 – James Rea, Notasulga Chapter
1951 – Gaines Granade, Leroy Chapter
1952 – John Hayes, Five Points Chapter
1953 – Tom Tomson, Aliceville Chapter
1954 – Ronnie Erwin, Glencoe Chapter
1955 – Oscar Jones, Jr., Prattville Chapter
1956 – Garland Bond, Greensboro Chapter
1957 – George Guess, Jr., Stevenson Chapter
1958 – Guy Solley, Glencoe Chapter
1959 – Bobby Wiggins, Opp Chapter
1960 – Curtis Nolen, Blountsville Chapter
1961 – Jimmy Barnes, Sulligent Chapter
1962 – Eddie Freeman, Columbia Chapter
1963 – Leonard Smart, Fairhope Chapter
1964 – Terry Wheat, Reform Chapter
1965 – Kenneth Wade, Ider Chapter
1966 – Eddie Barr Griffin, Eufaula Chapter
1967 – Mike Smith, Gordo Chapter
1968 – Jeff Norrell, Hazel Green Chapter
1969 – Joe Carmichael, Enterprise Chapter
1970 – Harold Grooms, Prattville Chapter
1971 – Bill Cofield, Woodland Chapter (National Winner)
1972 – Spencer Means, Eutaw Chapter
1973 – Terry Johnson, Geraldine Chapter
1974 – Randy Vaughn, Hayden Chapter
1975 – Eddie Blizzard, Scottsboro Chapter (National Winner)
1976 – Eric Summerford, Falkville Chapter
1977 – Jed Butler, Guin Chapter
1978 – Greg Pitts, Scottsboro Chapter
1979 – Stephen Cobb, Jacksonville Chapter
1980 – Michael Chapman, Woodland Chapter
1981 – Morris Baker, Eutaw Chapter
1982 – Barry Watts, Eclectic (Elmore County) Chapter
1983 – Bruce Tucker, Tanner "B" Chapter
1984 – Lee Camp, Talladega AVC Chapter
1985 – Lamar White, Auburn Chapter
1986 – Jody Brewer, Citronelle Chapter
1987 – Tim Moore, Beulah Chapter
1988 – Kim Sanders, Marbury Chapter
1989 – Shawn Hubbard, Marbury Chapter
1990 – Brandon Abbot, Arab Chapter
1991 – Richard Scott, R.C. Hatch Chapter
1992 – Elizabeth Ellis, W.S. Neal Chapter
1993 – Jamie Brothers, Douglas
1994 – Katie Hammett, Jacksonville Chapter
1995 – Dennis Fuqua, W. S. Neal Chapter
1996 – Amber Miller, Louisville Chapter
1997 – Andrea Gasser, West Point Chapter
1998 – Bryce Ulrich, Jacksonville Chapter
1999 – Ellen Knight, Wadley Chapter
2000 – Josh Johnson, Jacksonville Chapter
2001 – Sara Borchik, Enterprise Chapter
2002 – Devin Dotson, Red Bay Chapter
2003 – Christopher Randolph, Jr., Jacksonville Chapter
2004 – Megan Piland, Kinston Chapter
2005 – James Randolph, Jacksonville Chapter
2006 – Karen Baggett, Lawrence County Chapter
2007 – Katelyn Harris, Marbury Chapter
2008 – Salora Wright, Clements Chapter
2009 – Elizabeth Wilson, Jacksonville Chapter
2010 – Zachary Jones, Spring Garden Chapter
2011 – Kathryn Ray, Montevallo Chapter
2012 – Danielle Cassady, East Limestone Chapter
2013 – Nikki Giba, Cherokee Chapter
2014 – Wade Gossett, Hokes Bluff Chapter
2015 – Anna Pollard, Jacksonville Chapter
2016 – Jasey Black, Clements Chapter
2017- Seth Ingram, Susan Moore Chapter
2018 – McKenzie Gay, Woodland Chapter
2019-
2020 –Trace Strock, Billingsley Chapter
2021 –
History of FFA Districts in Alabama
FFA districts in Alabama date back to 1934, when several chapters organized themselves into three districts, simply called districts 1, 2, and 3. Although membership in districts was voluntary, most chapters chose to affiliate themselves with a district to take advantage of the member opportunities available at that level. By 1936, Alabama had twenty-two districts that included 114 of the state's 138 FFA chapters. Most of these districts were named for a nearby city, although a few were named for a county or geographic location. Some of these districts were Andalusia, DeKalb County, Gadsden, East Alabama, Montgomery, and Muscle Shoals.
The number and size of districts has varied a great deal over the years, as districts often were reorganized every few years based upon membership trends and the number of state staff members. In the 1950s and early 1960s, Alabama was divided into the Northeast, Northwest, Central, Southeast, and Southwest districts. In the mid 1960s, the state was reorganized into the North, North Central, South, and South Central districts. Several years later, Alabama had six districts: North, Northeast, Southeast, Southwest, East Central, and West Central. The Southwest Central and Southeast Central districts were organized in the mid 1970s, bringing the total number of districts to eight. In 1991, Alabama was reorganized into four districts, North, Central, Southeast, and Southwest. The Southeast and Southwest districts were consolidated into the South district in 2000. Today, the district organization continues to be a vital component of the Alabama FFA, as it provides opportunities for leadership and friendly competition among chapters.
Alabama FFA Wall of Honor
The following individuals have been inducted to the Alabama FFA Foundation Wall of Honor (with their sponsor listed next to their name). If you are interested in having someone submitted for consideration, please review the following documents here.
2018
Greg Adams – Family and Friends of the Hartselle FFA
David Cole – Alabama Farmers Federation
Gerald Dial – Dan Worthy
Nate Jaeger – Alabama Farmers Federation
Brad Willis – Rehobeth Young Farmers and FFA
2017
Shannon Burns – Etowah County Farmers Federation
Waymon Buttram – Dekalb County Farmers Federation
Jacob Davis – Friends of Alabama FFA
John Dorrill – Pike County Farmers Federation
Greg Hamner – Family, Friends and Past FFA Students
Jennifer Himburg – Alabama Farmers Federation
Cecil Medders – Alabama Power Company
Turner Porter – Elmore County High School
Jimmy Sanford – Alabama Power Company
Spencer Smith – Former FFA Officers
Dan Worthy – Clay Central FFA Chapter
2016
Randy Britnell – Arab FFA
O. R. Dennis – Arab FFA
Gary Hall – Family and Former Students
Mike Kilgore – AL Farmers Federation & Jerry Newby
David Stonebraker – Calhoun County Ag Teachers and Students
Bruce Tidwell – Appalachian FFA and Joe & Karen Gossett
Randy Wilkins – Arab FFA & Holly Pond FFA
2015
David Ashe – Former Students
Mike Casey – Friends and Family
Jim Pate – Friends and Family
Hinton Stinson – Former Students
2014
Marion J. Chamness – Family & Friends
Jeff Newman – Alfa
Ruby M. Pate – Family-Friends-Sand Rock FFA Alumni
Terry Sheffield – Washington Co FFA
Gary Dan Williams – Former Students
2013
Randy M. Blacklidge – Elkmont FFA
Kay Ivey – Alfa
Howard Edward Kennedy – Robert Lee Bradley, Sr.
Byron F. Rawls – Past State Officers
2012
Jerry Keith Adair – Friends
John Meeks – Friends
Brandon Moore – Alfa
Tom Whatley – Alfa
2011
Mark AndrewsBrantley – FFA
Angus Carver – Friends
Dennis Deaton – Friends
Greg Martin – Etowah FFA
Donald Sewell – Friends
Jimmy Sewell – Friends
Hue E. Smith – Friends
Joey Frank Snell – Ariton FFA
Huey Preston (Pete) Walker Jr. – Friends
P.M. Wilder – Former Students
2010
Ricky Bass – Students and Friends
Paul Beasley – FFA Alumni and Supporters
Shane Bryan – Friends
Ronald Harris – East Limestone FFA
Cecil Hilburn Hillestad – Friends
L. J. Howell – Friends
Elmer Jackson – Friends
Tommy Loper – Millry FFA
Bob Moorehead – Students
Henry Francis Penton – Friends
Mahlon Richburg – Lee County Farmers Federation
Rusty Roden – Family and Friends
Van Smith – Grace Smith
John Sudduth – Spring Garden FFA
Asa C. Teague – Friends
Michael Hutto – Wetumpka FFA
2009
J. D. Wigley – Friends
Hewell Bishop – Woodland FFA and Alumni
Terry Johnson – Geraldine FFA
Phillip Ellis – Friends
2008
Arthur Floyd – Friends
Gene Ragan – Rehobeth Young Farmers
Thomas W. Staples – James E. Long
Herbert Trulove – Red Bay FFA
Alton McFarland – Jerry Gates
W. Kyle Roberson – Friends
2007
Clayton Spencer – Friends
Bill Boyd – Friends
Stanley Morris – Friends & ALFA
Kenny Boyd – Teachers & Young Farmers
R. S. Jones – Friends
C. C. Martin – Friends
Robert C. Hughes – Friends
Wm. Franklin Fred Rush – Friends & Family
L. A. Robinson – Friends & SAASC
Rev. Alfred H. Cooper – Friends
Harold Barrow – Smiths Station FFA
2006
Mike Harrelson – FFA Members & Family
Phillip Cherry – Former Students
Wayne Wortham – Small Town Bank
W. E. Cooper – Family
Doug Caddell – Curt Lee
Joe Parrish – Southeast Teachers
M. D. "Moon" Thornton – Former Students
Charlotte Hollis – Curt Lee
Jerry Newby – Friends
Bob Riley – Alabama Poultry & Egg Association
Woodie Paige, Jr. – Smith Station FFA
Earl Saxon – Etowah County FFA Chapters
James Turner – Former Students
M. H. Moses – Former Students
Prince Preyer, Jr. – Former Students
Tim McCoy – Jackson County Teachers
Sandy Fields – Friends
Harold "Buddy" Pittman – Smiths Station FFA
Gene Galloway – Former Students
2005
John J. Lewis – Friends
Laymon Phillips – Friends
Troy D. Newton – Southeast Teachers
Rod Reynolds – Friends & Students
Frank Trione – Friends
Cecil Gant – Family, Friends, & Students
Marvin Brand – Friends
Joe Carothers, Jr. – Houston County Farmers Federation
Grady Hendrix – Friends
Pete Turnham – Friends
Coles Nix – Friends
2004
Darrell Hicks – Cullman County Farmers Federation
Randall Paramore – Friends
Cayce Scarborough – Friends
W. T. Porter – Friends
Woodie Pugh, Sr. – Friends
Curt Lee – Walker County Farmers Federation
Billy Powell – Friends
Remus Shade – Friends
Terry Foshee – Friends
Bobby J. Thomas – Friends
Paul Pinyan – ALFA
Jeff M. Beasley – Friends
James M. Morris – Friends
Lamar Dewberry – Lineville FFA
Lavord W. Crook – Friends
Eloise Lewis – Friends
2003
Leonard R. Brown – Friends & Family
Tommy Odom – Friends
C. R. Bass – Slocomb Alumni
Socrates Harper – Friends
Gordon Patterson – Students
Terry Huff – Friends
H. Jackie Ganus – Friends
Grover Morrow – Friends
Alvin H. Halcomb, Jr. – Friends
Leon Gipson – Friends
N. D. Steele – Friends
2002
Jack Chandler – Friends
L. G. McDonand, Sr. – Friends
L. L. "Red" Sellers – Friends
Paul C. Dean – Friends
Dewel C. Lott – Friends
2001
Burl Quimby – Friends
O. D. Gissendanne – Friends
Barry Bailey – Friends
Joe Stone – Friends
Allen Bice – Friends
2000
Earl Fisher – Friends
Philip Paramore – Friends
Charles W. Reed – Southwest District Teachers
Alan Waters – Friends
B. J. York – Curt Lee
Bill Gibson – Curt Lee
Jim Simpkins – Curt Lee
Kenneth Cook – Friends
1999
Bab Brand – Friends & Family
Keith Tuberville – Friends
Terry Sisco – Friends
Charles Crawford – Friends
Gilbert Butler – Friends
Curtis Eiland – Friends
Billy Bryan – Friends
1998
Fred W. Wood – Friends
Betty Wright – Friends
Wesley Grant – Baldwin County Teachers
Mindy Stringer – Family
Dennis R. Tierce – Friends
Eurell Gilbert – Friends
David C. Fleming – Friends
Glenn Adderhold – Joe Broadwater
Sammie Pate – Friends
Danny Hooper – Friends
John R. Whaley – Friends
Harold Lipscomb – Friends
1997
Charles Tew – Friends
Mike Tidwell – ALFA
C. S. Bazemore – Friends
Frances Mizell – Past State Officers Alumni
Joe L. Brown – Friends
J. C. Hollis – Friends
E. W. Underwood – Mrs. E.W. Underwood
1996
Paul B. Holley – Agribusiness Education
Douglas Rigney – ALFA
Jim Cravey – ALFA
Wallace F. Rasberry – Students and friends
Charles McCay – ALFA
Jimmy Owen – Agriscience Education
H. N. Lewis – Agribusiness Education